Spanish hunters and their research on migratory species
In 1990, the Spanish Royal Federation of Hunting founded FECENCA, the Foundation for the Study and Protection of Nature and Hunting, which is meant to support scientific research on:
Huntable species and their status

Developing management methods and best practices in order to ensure sustainability

Promoting conservation of protected and vulnerable species

Sport hunting and rural development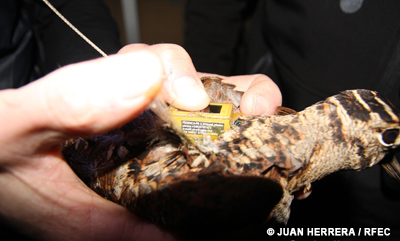 In 2009, they launched a project which aimed to gather reliable data and improve knowledge on the Eurasian Woodcock (Scolopax rusticola), a migratory species coming in Europe during their wintering and breeding season.
The objectives of this 3-years research were to:
Increase the knowledge about the migratory movements of woodcocks

 

Promote the involvement of hunters in the management and conservation of the species, making them participate to the studies.

 

Provide the competent authorities with rigorous information on the status of Woodcock in order to develop a homogenous legal framework regarding the hunting management and conservation of the species in Spain.
Various activities were conducted:
Awareness raising actions targeting various groups of hunters;

Monitoring of the bag data and analysis of biological samples;

Censuses of the wintering and breeding populations through ringing campaigns;

Monitoring of the migratory routes using satellite radio-telemetry techniques.
The synergies and cooperation for those actions were globally developed through the collaboration of FEDENCA and the "Woodcock Hunters' Club of Spain". 
From 2010, the project was also supported by the "Spanish Ministry of Environment, Rural and Marine Affairs" as well as the "Spanish Biodiversity Foundation".
Other projects were or have been conducted by FECENCA on various species such as the red partridge or the turtledove.
For more information please visit: http://www.fecaza.com/fedenca/estudios#.VJk–sAA