Large Carnivore Working Group meeting, Brussels
On 17 October 2017, FACE held a meeting of its Large Carnivore Working Group in Brussels. The agenda included policy updates on the EU Large Carnivore Platform, the EU action plan for nature, people and the economy as well as an update on national large carnivore issues. FACE also agreed on the text of a new document entitled FACE policy requests on large carnivores.
On the subject of updating the annexes of the Habitats Directive, FACE presented an overview of recent amendments on the European Parliament's draft resolution on the EU Action Plan for nature, people and the economy. FACE is particularly pleased with one amendment that "calls on the Commission to develop an assessment procedure to enable the protection status of species in particular regions to be amended as soon as the desired conservation status is reached". Should this be adopted in plenary, it will put greater emphasis on the European Commission to update certain annexes of the Habitats Directive. FACE will continue to work closely with MEPs on this issue. FACE Members are encouraged to urge their national governments to put pressure on the Commission to launch a process of scientifically reviewing the annexes for mammals that no longer qualify for strict listing in Annex IV to allow for adaptive management.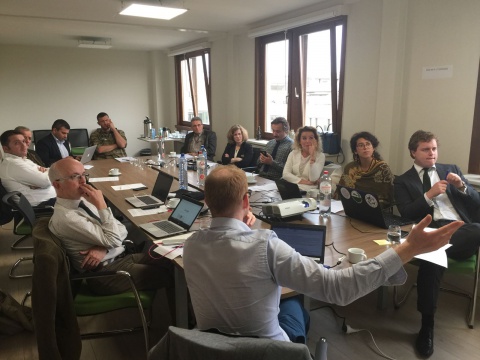 FACE also invited Copa-Cogeca, the European farmers' organisation, to provide an update on their current process of adopting a Europe-wide large carnivore policy. It was agreed that hunters and farmers have many common areas in particular around the need for greater flexibility in the implementation of the Habitats Directive. Members of the working group stressed the need for Copa-Cogeca to consider supporting the updating of certain annexes of the Habitats Directive to account for the fact that many large carnivore populations are increasing and expanding in Europe. In this context, the point was made that conservation priorities need to be set according to the most up-to-date and comprehensive scientific knowledge.
Finally, FACE discussed its position on updating the EU Species Protection Rules in advance of the European Commission's plan to start working on this document in 2018.