FACE GENERAL ASSEMBLY 2014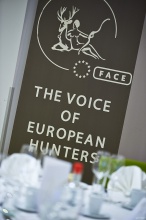 The representatives of the European hunting world from 23 countries gathered in Brussels for the annual FACE General Assembly on 4 - 5 September.
The intensive meeting covered a broad range of topics impacting on hunting in Europe, with FACE Members discussing its activities in FACE's 12 thematic work areas, each crucial to hunters - ranging from Member Services, to Animal Welfare & Health, Firearms & Ammunition and of course Nature & Wildlife Conservation. The wide variety of issues discussed is representative of the importance of the EU's influence and the hard work of FACE. The FACE General Assembly also voted for the European Bowhunters Federation (EBF) to become an Associate FACE Member.
The General Assembly followed a reception and a dinner on 4 September which was attended by German MEP Karl-Heinz Florenz and Danish MEP Bendt Bendtsen, Pia Bucella, Director Natural Capital at the European Commission's DG Environment and other stakeholders and partners underlining FACE's good standing with the EU Institutions. 
FACE is probably the largest representative body for hunters in the world and a major civil society organisation in the EU speaking for 7 million European huntes. It engages technically and politically with a wide range of stakeholders including the European Commission and the European Parliament. The success of the General Assembly show that despite many challenges we achieve many positive outcomes, which benefit hunters, European citizens and our common natural heritage.
You can view photos of the General Assembly
here
.
You can view the photos of the reception and dinner here.