Biodiversity 2020: Hunting for Solutions Conference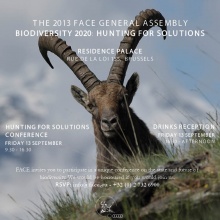 The 2013 FACE Hunting for Solutions Conference took place in Brussels on 13 September as highlight of the annual FACE General Assembly. The Conference had a comprehensive agenda featuring high-level speakers from EU institutions, NGOs, hunting and other biodiversity stakeholders discussing actions to conserve biodiversity. 
The Hunting for Solutions Conference was underpinned by our committment to take action for nature through the FACE Biodiversity Manifesto and our ethos of collaboration for conservation. Delegates of national hunting associations from 36 countries who represent their country's hunters through their FACE Membership as well as external guests were invited to take part in this unique dialogue.
The first 2 sessions of the day showcased the opportunities for meaningful partnerships between hunters and other conservationists and landusers. This highlighted some of the diverse conservation actions being undertaken by hunters every day, from international through to local levels. The final session saw a diverse panel of experts discuss ideas with the audience on how to inspire and empower people to collaborate and coordinate actions for long term cost-effective biodiversity conservation.     
The Hunting for Solutions Conference closed with a reception offering the opportunity to network and continue exchanges in a more informal setting between fellow conservationists.
You can find detailed summaries of the speakers and the presented projects here.
You can find the detailed programme here.
See photos of the event here.
For more information please contact Yasmin Hammerschmidt.